eBay vs Poshmark: Which is Better for Online Sellers?
I've been selling preloved goods online for a few years already and I have always recommended cross-posting to various online selling websites or apps to increase your chances of selling your items fast.
However, I know that some people don't have that much time to dedicate to their online selling gig and they are just doing it on a part-time basis. Most part-time sellers that I know of just want to focus on selling on one or two websites so they will have more time left to do other things in life.
If you're deciding between selling on eBay or on Poshmark, I will be breaking down important things that you need to know between these two websites to help you identify which one is best for you.
Let's start, shall we?!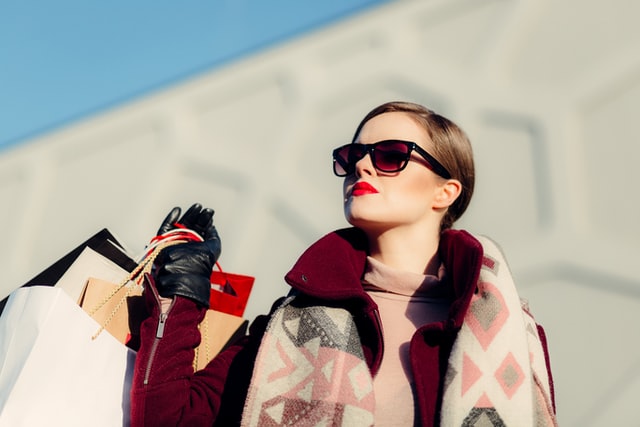 Who Buys and What Sells on eBay and Poshmark
eBay is undoubtedly the bigger marketplace in comparison to Poshmark. According to eMarketer's February 2020 data, eBay is the third largest eCommerce platform in the US next to Walmart and Amazon with around 182 Million users worldwide.
As of the time of writing, this data shows that Gen X and Baby Boomers are the largest demographic on eBay, with 32% of the site's buyers aged 35 to 49 and 29% aged 50 to 64. And the top-selling items on eBay are electronics and clothing.
Poshmark is relatively new in the eCommerce game compared to eBay. However, it's really growing fast due to the support it's getting from the Millenials and Gen-Z shoppers.
Based on Poshmark's 2020 Social Commerce Report, they have around 60 million community members in the US and Canada and this number will exponentially grow once they decide to cater to other countries just like eBay.
Even though you can practically list anything on Poshmark that complies with their Terms of Service, fashion merchandise specifically, clothes, shoes, bags, and accessories are the hottest selling items on the website.
eBay vs Poshmark: Fees You Need to Know
In order to avoid confusion and to give you a better comparison of fees between eBay and Poshmark, I will only be discussing fees related to selling clothes on both platforms. This is because eBay has varying fees depending on the item that you intend to sell and your final selling price. If you wish to see the complete eBay Fees list, click here.
eBay has two main fees which are the Insertion fee (listing fee) and the final value fee which is charged to the seller. If you're a non-store seller on eBay, you can have 200 free insertion fee listings per month. But, if you subscribe to the eBay store option, then you can have more free insertion listing fee options depending on your subscription level.
Aside from the listing fee and final value fee, you will also be charged for non-eBay fees such as PayPal fee which is 2.90% + $0.30.
Poshmark's sellers' fee policy is very simple. Listing is free and you will only get charged if you sell an item. For sales under $15, the fee is a flat rate of $2.95. For sales above $15, the fee is 20% and you keep 80%.
Here are two examples to give you an idea of how much you can potentially earn from both websites.
Please note that on the given examples below, Gross Profit is computed as:
For eBay: Prices Sold - Seller's Fee (Fee) - PayPal Fee
For Poshmark: Prices Sold - Seller's Fee (Fee)
To help you visualize the potential profit on both eBay and Poshmark, here are two scenarios with the following assumptions:
Sold Item: Vintage Shirt
Sold Price: $15 for Example #1 and $50 for Example #2
USPS Shipping Flat Rate Envelope for eBay: $7.95 (LA - NYC)
Poshmark Flat Rate for Shipping (< 5 lbs): $7.11
You didn't use any paid listing option of eBay
Example #1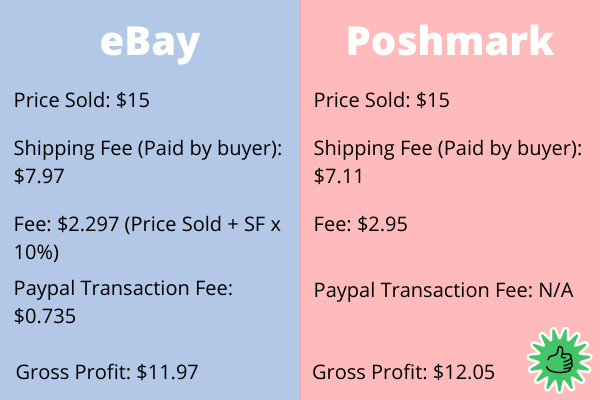 Based on the first example, since the item is sold for only $15, it gets to avail the flat fee of $2.95 for Poshmark. However, since the final value computation of eBay includes the shipping fee plus the PayPal fee, eBay turned out to be just a little bit more expensive.
Example #2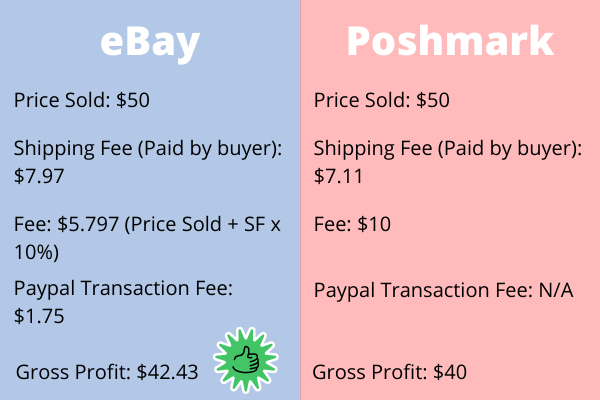 Based on the second example, you'll earn more if you sell on eBay even if you pay 10% seller's fee + PayPal fee. This is because all sold items on Poshmark above $15 get charged a flat fee of 20% Seller's Fee.
As you can see on both examples, your gross profit will vary depending on the number of factors:
Price sold and to which sellers' fee category it will fall on ( for Poshmark)
Shipping Fee (Final value computation of eBay includes shipping fee)
Other applicable fees (such as PayPal for eBay)
Take these into consideration when choosing which platform to you.
How do Seller's Get Paid on eBay and Poshmark
This is something that you need to know and to think about. As online sellers, cash flow is king and we need to maintain a steady cash flow in order to keep growing our online selling businesses.
Getting paid on Poshmark is what most sellers don't like about this platform. Poshmark will only release the payment to sellers within three days of delivery. You have an option to withdraw the money via direct deposit to your bank account or request a check.
The problem is, when the delivery gets delayed, the payment gets delayed as well.
With eBay, you'll automatically receive your payment, but the exact process and timeline will depend on the payment method the buyer used. Since a lot of buyers on eBay use PayPal, then the payment is immediate.
It takes a bit longer though if the buyer pays using a credit card or a debit card since it is processed first through the PayPal payment gateway before being added to your PayPal account.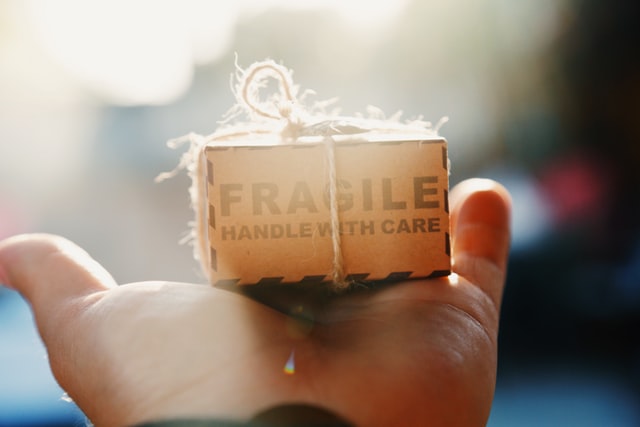 eBay vs Poshmark: Shipping
Shipping on Poshmark is very straightforward and simple. Poshmark provides a flat rate of $7.11 for expedited shipping on all orders as long as the order does not exceed 5 lbs. Any overweight costs are paid by the seller.
Poshmark orders are shipped using United States Postal Service 1-3 day Priority Mail and it is paid for by the buyer.
On the other hand, you have more flexibility with shipping when it comes to eBay and they are encouraging (but not requiring) sellers to factor in the shipping cost to the total cost of the item so sellers could offer free shipping to customers.
Feel free to use eBay's shipping calculator to estimate how much it costs to send an item through various carriers in the US.
eBay vs Poshmark: Seller Protection
Poshmark sends prepaid and pre-addressed USPS Priority Mail shipping label to put on package.
Make sure to use the Poshmark-provided label and also, ensure that the package is scanned into the USPS tracking system. By doing so, you will be fully covered by Poshmark should the package get lost in transit by USPS.
As an added protection, any orders over $400 will require a signature upon delivery.
All sales are final on Poshmark unless the items do not ship and unless your customer claims that there are authentication issues, undisclosed damages or if the items shipped are incorrect or missing.
As sellers, you can also protect yourselves by making sure that you provide an honest and complete description including measurements of the items and enough photos to show the customers the current condition of the item you are selling.
eBay has a more extensive Seller's Protection Policy which includes protection from abusive buyers. Just like selling on Poshmark, be sure to provide complete and accurate descriptions of the items and include the most current pictures of the product on your listings.
Although both marketplaces are reputable, there are both eBay and Poshmark have known scams that sellers need to watch out for.
Click here if you wish to see eBay's Seller's Protection policy.
eBay vs Poshmark: Returns and Refunds
Getting a message from a customer about a return and/or a refund is dreaded by most online sellers. Aside from the possibility of losing money in the process, it can also be time-consuming for both buyers and sellers.
With Poshmark, as I have mentioned earlier, all sales are final unless the buyer receives an item that is not as described within the listing, is sent the wrong item, or is in some other way not as described. Buyers are given three days to report this to Poshmark via the app or website.
They will also have to upload photographs of the items that they received and Poshmark will investigate the issue and will facilitate the return to the seller and the refund in case they find the complaint valid.
Since there's no messaging functionality on Poshmark, both buyers and sellers will not be able to communicate privately to discuss the returns and refunds. They will have to go thru Poshmark in order to resolve the issue.
With eBay, most sellers work with the buyers to resolve issues related to purchases. For low-value items, you can discuss with your buyer possible options such as:
Return the item to you and issue them a full refund including shipping costs
The buyer keeps the item and you offer a partial refund
Replace or exchange the item
If you and the buyer won't come to an agreement, you may ask eBay to step in and help in resolving your customer's concern.
Most items on eBay are covered by the eBay Money Back Guarantee policy, and when you issue a refund for the item covered by this policy, your final credit value will be refunded to you but the Insertion fees and other eBay fees will not be refunded.
Which one is easier to use, eBay or Poshmark?
Both websites are very easy to use. eBay may look intimidating at first because there's a ton of options when it comes to listing an item compared to Poshmark. However, those options enable buyers to easily find the items that they're looking for.
One key feature that I feel is very important is the ability to send a direct message to the buyer and vice-versa.
Poshmark's website and app do not have this functionality and you can only communicate to your buyers via comments on the listings. This may put-off prospective buyers when it comes to making offers and this makes it also difficult for sellers to address complaints and disputes.
With eBay, you can send direct messages to your buyers and vice-versa which makes communicating to customers so much easier.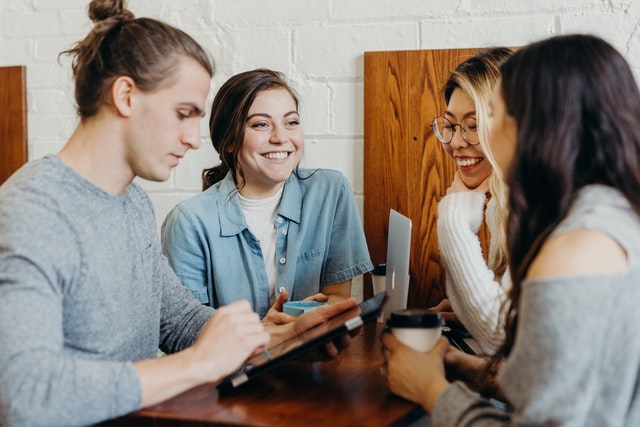 Final Thoughts: Which is better, eBay or Poshmark?
If you're going to ask me, I will recommend for you to cross-post on both platforms so you can take advantage of both of their strengths.
However, if you're planning to just sell on one website for the time being, then it will all depend on what you want to sell and who your target market is.
If you're going to sell affordable fashion merchandise and if your target market is Gen Z, then you might find more success in selling on Poshmark since it's their biggest market.
However, if you're planning to sell a wide variety of products such as clothes, collectibles, household items, then eBay might be a better option. And also, if you're planning to sell internationally, then eBay is your only option because as of the time of writing, Poshmark is only available to the US and Canada.
Other Reading You Might Like