What you NEED to know about Poshmark Virtual Assistants in 2021
If you are a Poshmark seller, you know that maintaining your closet can become an overwhelming task if you go it alone. Posting, sharing, following, or joining or hosting parties takes a lot of time. Looking for help, but not sure where to start? A virtual assistant (also called a VA) might be right for you.
The key to growing your Poshmark business, as you may already know, is sharing. With the exponential growth of Poshmark over the last few years, sellers have become more and more dependent on VA's and automated tools (bots) to help them manage their business. A virtual assistant can save you hours of work when utilized effectively so you can spend more time on the things you love, and less working on your Poshmark business.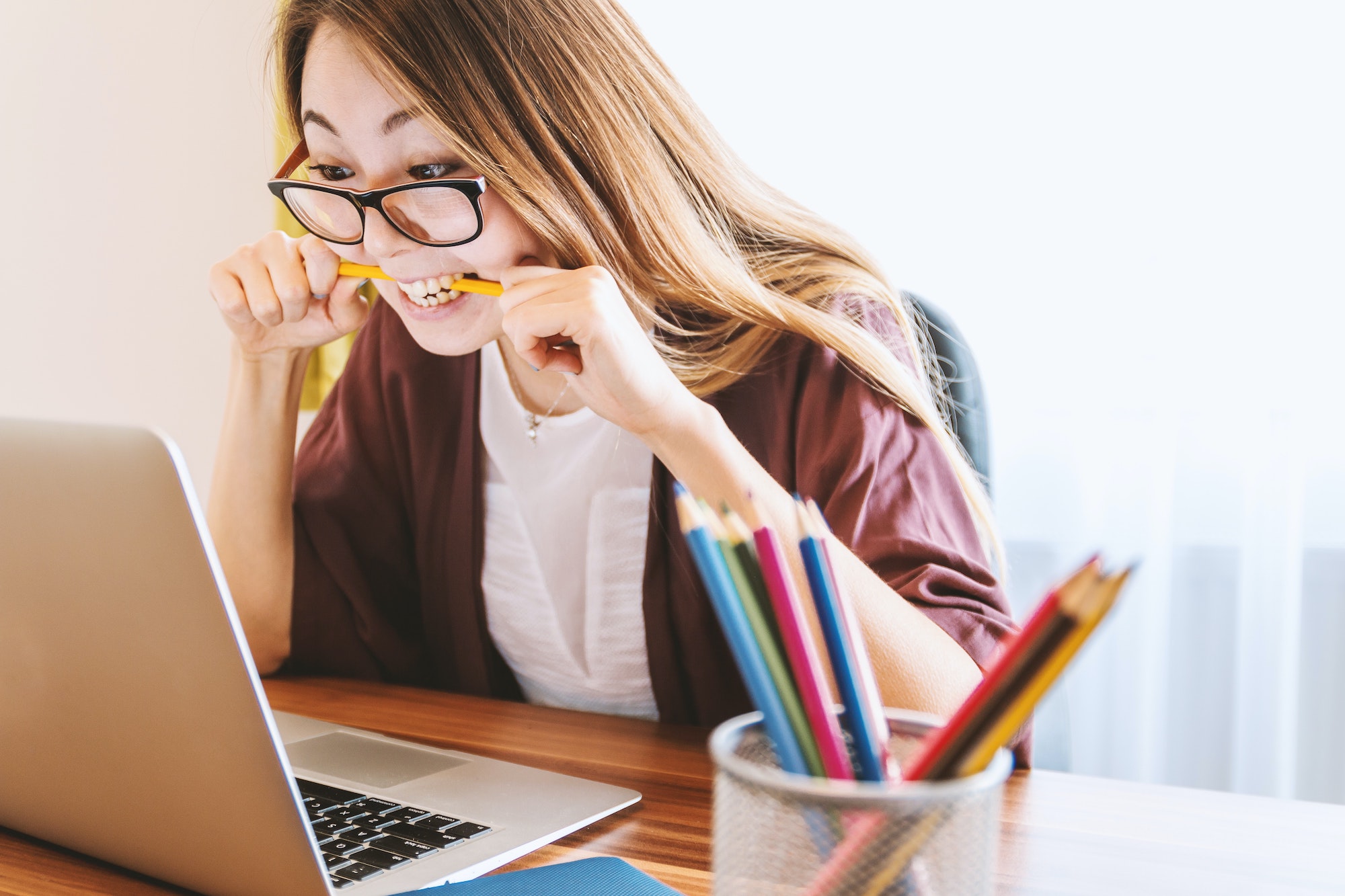 You may be asking yourself, what is a virtual assistant, and how can it work for me?
What is a virtual assistant?
A virtual assistant is an independent contractor who provides administrative services to clients while operating outside of the client's office. A VA typically operates from a home office but can access the necessary planning documents, such as shared calendars, remotely. A virtual assistant does not mean you are utilizing bots or AI, but a real person who will do your work for you remotely. Because Poshmark is an online business, it is perfect work for a virtual assistant.
What is the cost of a virtual assistant?
Costs of virtual assistants vary, as it depends on where you source your labor from, how skilled your assistant is, and the cost of living.
While you can hire generalist virtual assistants from out of the country who are untrained and only charge around $1/hour, these would only be best if you need help a few hours a week. Time differences, language barriers, and lack of training for your specific needs might be downfalls, however.
Sites like Fiverr can also be good sources of inexpensive help, as they usually only charge about $5 per task. This is a great option if you only need help periodically, such as high-demand times like holidays.
If you need to hire a VA on a permanent, ongoing basis, you should budget for at least $100 a month. While this may sound like a lot, remember that when working on your Poshmark business, you are paying with your time, or you are paying with money to hire an assistant.
So which is the better investment? Let's look at some cost breakdowns.
Price per action
Virtual assistant packages (whether done by real people or automated tools) usually have a price per action that is completed over a certain period of time. For example, Closet Assistant, a Poshmark bot, has unlimited sharing daily with 1000 follows and shares per hour and 30 auto comments an hour (with other features) for $7.99 a month.
On Fiverr, a human VA will charge $15 to share your items 5 times a day over the course of two days, also sharing your entire closet 3 times a day if you have less than 200 items in your closet.
To decide if you need a human VA or you can use a bot, it is helpful to look at cost per share, how often you will need the services, and how much you have to budget for your assistant.
What are the risks of hiring a third party?
As with any online venture, there are risks involved, but you can protect yourself if you are knowledgeable about the process.
One major risk of using automation software as a VA is having your closet put in "share jail." Simply put, this means your account will be temporarily
(sometimes even permanently) suspended if you share too often or have sharing patterns that are considered suspicious.
Sharing your Poshmark password is also a security risk, whether you are using human VA's or AI. When hiring a VA service, your email and password may be shared with multiple people, so that whoever is on shift to cover your closet will have that information. Poshmark automation software can be more secure, but only if you make sure you are sharing your information via encrypted servers.
Do your research and make sure you are trusting whatever service you decide to use. Be careful to only work with reputable providers, to avoid getting scammed on Poshmark. If you decide to go with a traditional VA, you may want to make sure you have only one person who has access to your account and passwords.
Where do I find a virtual assistant?
There are so many choices for Poshmark virtual assistants now it can be overwhelming. Once you take stock of your personal needs and budget, then you can start looking around for your perfect assistant.
Gig Economy Virtual Assistant Services
If you are looking for the human touch, gig work services like Fiverr and Upwork may be a great choice for you. As Poshmark VA's become more of a necessity, it is easier to find assistants advertising their skills on gig work sites.
Fiverr has no shortage of Poshmark virtual assistants, most starting at $10 per package. Each package is different according to the assistant, so it is important to do your research to find the package that is right for you. For instance, one $10 package consists of 2500 shares over a two-day period, while another $10 package is 300 shares per day over a two-day period. The upside of working with an individual person is the possibility of creating a one-of-a-kind package for your specific needs.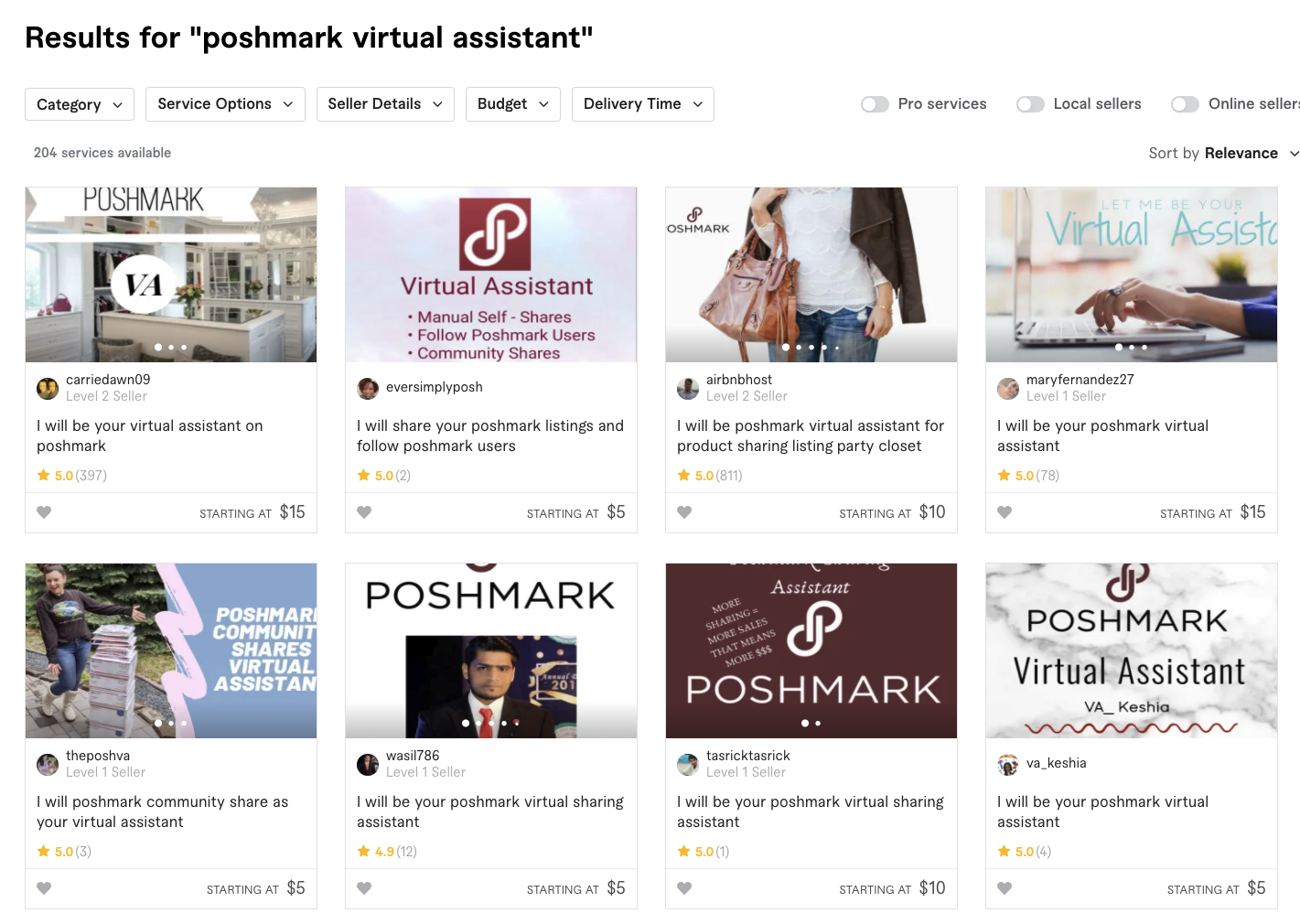 Upwork is slightly different, with most assistants charging by the hour instead of listing per package pricing.
With any kind of talent marketplace, be sure to trust who you hire. Hiring from reputable sites like Upwork and Fiverr may offer more protection as a buyer, but even reviews can be falsified, so buyer beware. Also read descriptions carefully, as some packages may be worded with loopholes which may mean you don't get what you pay for. For instance, an assistant who promises "up to 12,000" shares a week leaves a lot of room open to not deliver on that promise.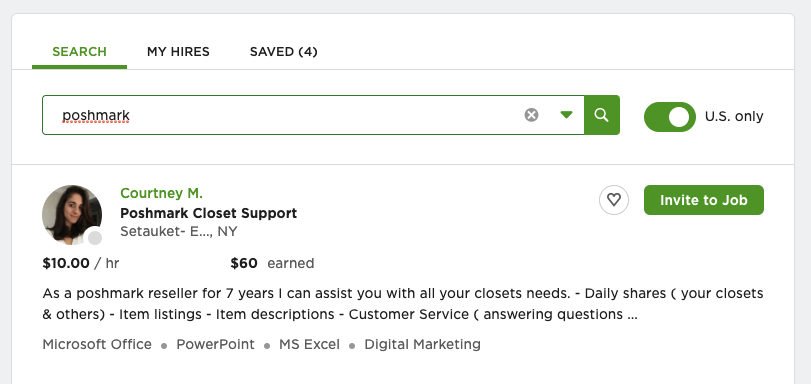 Don't overlook risks because of a low price tag. Price shouldn't be measured by day or hour, but by the results you get. Five dollars a day might sound cheap, but you could end up paying over $150 a month if you need assistance daily. Remember to calculate price per action to make sure you are getting your money's worth. Using assistants on Fiverr or Upwork would be ideal for you if you only need occasional help, and you can find a dependable assistant with honest, positive reviews.
If working with a person you can communicate with on a daily basis would be helpful for your business, a VA from Upwork or Fiverr might be right for you.
Overseas and Foreign Labor
Some Poshers choose to hire virtual assistants from other countries like India or the Philippines because they only charge around $1 per hour, as mentioned before. However, with a drop in price also comes a drop in quality and ease-of-use. As stated before, working with a VA from another country means time differences, communication difficulties, and having to train your VA, as Poshmark is not available in all countries. This means trading more of your time and getting less results, as your VA will be spending more time training than managing your closet.
Overseas assistants may be less expensive, but may come with more risk and less output for your business. Again, be sure to look at price per action to be sure this option is right for you.
Virtual assistant Poshmark platforms
There are also other services that have teams of virtual assistants just for Poshmark. Sites like Reseller Assistant and Poshmark Virtual Assistant let you work one-on-one with a real assistant who will manage your closet for you. However, working with a live virtual assistant is more expensive, as most monthly packages start at $99 a month and go up to as much as $800 per month. While they are more expensive, some sellers enjoy having the peace of mind having a human manage their business.
However, some of these companies that hire out human virtual assistants are still using automated software to manage your closet, which begs the question: do I really need a human VA to help me with my business, or can I use automated software myself and skip the middleman?
The answer is yes, you can!
What are good alternatives to virtual assistants?
You've done your research, looked at your budget, and realize a human VA isn't right for you. What to do now?
Have no fear. Poshmark bots just might be your new best friend.
With the growth of Poshmark over the last few years, many sellers have come to the realization that to succeed in this business, you definitely need an assistant. While some people can dedicate themselves full-time to their Poshmark closet, many sellers work full-time jobs other than Poshmark, making hours of following and sharing impossible.
Now there are many Poshmark bots to choose from, most with very affordable monthly packages and free trials to test out the product.
But if bots are against Poshmark policy, how can we use them?
For one, it isn't illegal to use automated software. Poshmark states in their terms of use not to use forms of automation that likes, sells, or follows or other users or accounts. If you do, they will take permanent or temporary actions against your account, like "share jail," shadow bans, or disabling your account entirely.
Poshmark has put limitations on how many shares and follows you have for your account per day. If you go over these limitations, you will get banned, but if you don't, Poshmark will not know you are using a bot.
Automation software also has sharing limits as well as captcha solvers to help you get around Poshmark's limits on bots. This will allow you to get many more shares and follows done in one day without spending hours doing it.
Our product, ClosetPilot is in our opinion the best product out there to automatically share your Poshmark closet and replace Poshmark Virtual Assistants.
Is ClosetPilot right for me?
Reviews of Poshmark automation software found that ClosetPilot is the best value in the Poshmark virtual assistant market and does not run into technical issues like other software we tested. If you need help managing your closet but can't afford a human virtual assistant at around $100 a month or more, you can get Closet Pilot to free up your time and get more sales for $29.99 a month (or try the free forever package).
Closet Pilot is a simple Chrome extension that works on your browser to help you share, follow, unfollow, and much more with just a click of a button. With share limits and built-in delays for more human-like actions, you don't have to worry about getting shadow-banned by Poshmark. Another great feature is the automatic captcha solver, so you can manage your closet without worrying about technical snags. With so many full-functioning features, human-like actions, and a great price point, we recommend giving ClosetPilot a try.
Other Reading You Might Like